While certainly not undiscovered, the Mergui Archipelago in southern Myanmar is one of Southeast Asia's most remote dive destinations and a gold mine for divers in search of adventure. Myanmar (formerly Burma) remained closed to foreign visitors until a regulated opening in 1997. Still today, the Mergui Archipelago is a restricted special zone. Boats require special permits and most visitors need a visa. Thus far, only a few liveaboards have received cruising licenses in Myanmar. Because of these restrictions, very few international divers have experienced diving in the Mergui Archipelago. This collection of 800 tiny islands, spanning over 4,600 square miles (12,000 square km), off the coast of Myanmar, is still widely unmapped and is only accessible by sea. While a few dive sites are becoming famous, new dive sites are still being discovered.
Expect the extraordinary
From the moment you cross the border, expect a dazzling landscape. While you cruise over the turquoise waters between the lush jungle-covered limestone islands dotting the horizon, scan the seas for a glimpse of the Mokens, a tribe of nomadic sea gypsies. If you are into birding, you should also survey the island's green canopies, as 228 species of birds inhabit in the area.
Myanmar's best dive sites are quite a way from the coasts, which means they're usually private. It's very rare to cross paths with other dive boats, which is a treat most divers never experience. And, not only will you appreciate the exclusivity of the Mergui Archipelago, but you will also experience some of the most beautiful and diverse sites in the Andaman Sea. Night dives are not to be missed either, as the seas are alive with crustaceans and invertebrates.
Mergui Archipelago dive sites
Western Rocky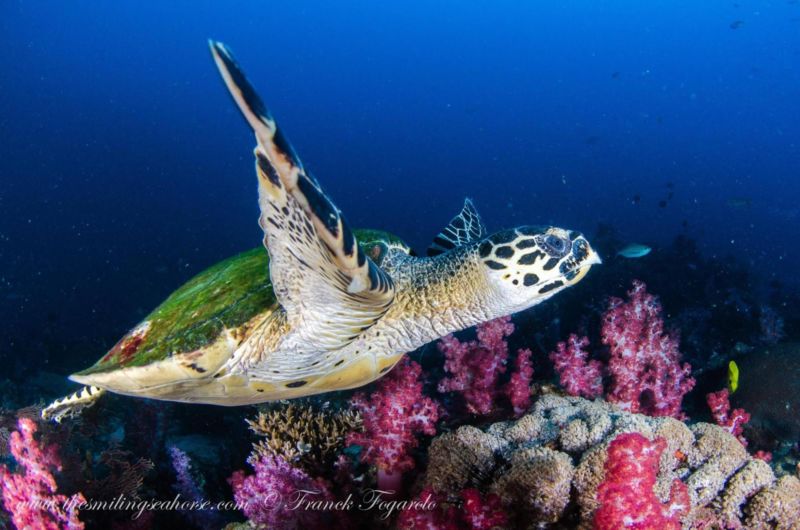 Western Rocky is by far the most famous site in the southern area of the Archipelago. This minuscule landmass has a large swim-through, flooded in sunlight, running from one side of the island to the other. The underwater landscape here, and at the four sister islets, is covered in a wide variety of coral and sponges and supports a wide spectrum of creatures. The cherry on top? Whale sharks often visit Western Rocky.
Black Rock
Considered the pinnacle (pun intended) of diving in Myanmar, Black Rock is one of the furthest sites north that you can visit on a liveaboard. The rock pops out of the ocean far from any other islands, and its walls are covered in soft coral and impressive rock formations. The visibility is usually great, which allows divers to peep at barracuda, trevally, and tuna. But Black Rock is mostly known as a great spot to see oceanic manta rays, as it is one of their favorite spots in the Andaman Sea to find a mate and breed. The rich coral reef is also home to many species of tropical fish and macro life.
Shark Cave
Shark Cave is a topographical playground for divers who love nooks, crannies, and swim-throughs. There are small caves as well, and a lot of flat rocks where critters hide. The site provides shelter for a host of creatures from crustaceans to blotched stingrays, pineapplefish, pipefish and schooling squid. There is also a vast garden of coral and sponges where you can spot moray eels, cowries, mantis shrimp and many colorful nudibranchs.
Burma Banks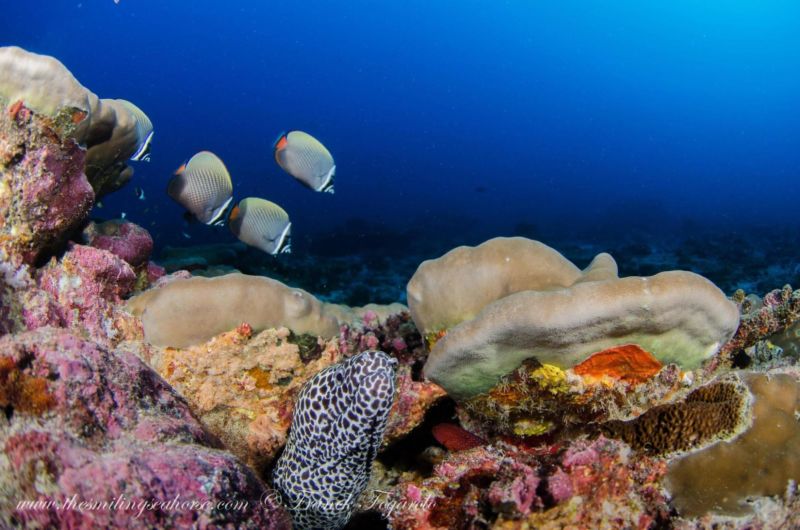 Arguably one of the most mysterious diving areas in Myanmar is the Burma Banks. This vast area has numerous unexplored dive sites as it is one of the furthest from land, sitting roughly 100 nautical miles (180 km) west of Kawthaung. The underwater seamounts are enormous, starting at 1150 feet (350 m) and rising up to about 50 feet (15 m). The visibility is often close to 130 feet (40 m). Since sites are quite exposed there are often strong currents, which makes for great drift dives. This is also a hotspot for nurse sharks and other rarer sharks and rays coming up from the depths, such as silvertip or tiger sharks and huge blotched rays. Aside from the sharks, the Burma Banks are also home to beautiful tropical creatures such as honeycomb moray eels, and clown triggerfish, which you curiously seldom encounter in the rest of Mergui Archipelago.
Planning your adventure
When to go
The best time to dive the Mergui Archipelago is between late October and mid-May, when the skies are blue, and the sea is calm. Monsoon rains mostly characterize the off-season, when tourism in the area basically stops. The water temperature is pretty consistently 81 F (27 C) throughout the season, but adequate exposure protection is still necessary when diving four times a day.
How to get there
A few years ago, the Mergui Archipelago was mostly unknown, and few people could locate it on a map. A few boats have occasional cruises departing from Khao Lak in Thailand, but the best departure point is from the border itself. Ranong is on the Thai side of the border and Kawthaung on the Myanmar side, and cruises can pick up guests on either side of the border, but you must arrange permits and visas in advance. Most visitors join their cruise in Ranong (about 186 miles/300 km north of Phuket). You can typically fly from Bangkok to Ranong on one of three daily flights with domestic low-cost airlines Nok Air and Air Asia. You can also fly into Phuket and take a taxi or bus along the scenic coastal route to Ranong.
Currency
Myanmar uses Burmese kyat, but you probably won't need any if you're going to explore via liveaboard, as cruise operators and resorts in the area use either Thai baht or USD. If you do intend to explore Myanmar make sure your dollar bills are pristine — to be worth something here, your bills mustn't have a scratch or tear.
Author Camille Fogarolo and her husband Franck own the MV Smiling Seahorse liveaboard, the newest dive boat in the area. All images courtesy Franck Fogarolo.