Most dedicated scuba divers have a bucket list, and the same places tend to appear on all of them —Raja Ampat, the Galapagos, Cocos Island, Palau, Bloody Bay Marine Park, the ever-popular Great Barrier Reef. And all of those destinations certainly belong on a bucket list, but there are lots of alternatives out there as well. These may be less traveled, but they're no less spectacular for their combination of visibility, endemic fish and brightly colored coral. Here are our picks for the top five alternative diving bucket list destinations — and what you'll likely see when you visit.
Baja California Mexico, Hawaii, and Yap
Okay, so we snuck three ray-heavy destinations into one entry. Rays are an eternal favorite of divers everywhere, for their grace and obvious intelligence. You can see schools of hundreds, if not thousands, of mobula rays near La Paz, Mexico, especially during night dives. These smaller rays move in unison in huge groups and often leap up to 9 feet (3 meters) out of the water. The best time to see them congregate is between March and November.
Another favorite haunt of dozens of mantas is, of course, "Manta Ray Village," accessible to dive boats out of Kona on the Big Island in Hawaii. The large rays are up to 16 feet (5.3 meters) across and tip the scales at about 1,000 pounds (455 kilos). They arrive like clockwork every night at sunset when the surface lights are flipped on.
Finally, you can't talk about manta rays without mentioning the pristine island of Yap, one of the Micronesian Islands in the mid-Pacific south of the Equator. Yap is a long haul across the Pacific, even from Hawaii, but it's well worth it, and a favorite among leading dive magazines. Here, you can dive with manta rays just about any day of the year, but especially between December and April during manta mating season.
Grand Cayman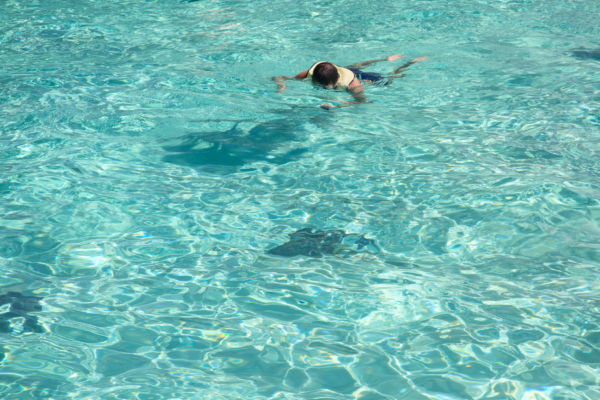 The world's favorite place to snorkel with up to 200 southern rays is the infamous Stingray City in the North Sound of Grand Cayman Island. It started in the 1990s when a Detroit cop would visit the same shallow sandbars annually on his vacation because of its abundance of stingrays.
After he started feeding them, they would show up daily. Cruise ships soon made it a shore excursion and the rest is history, as thousands of snorkelers now visit this site every year to interact with the animals.
Magdalena Bay, Mexico
Magdalena Bay, on the west coast of Baja California, Mexico, about 175 miles (283 km) north of Cabo San Lucas, offers divers the chance to see incredible marine life.
The world's second largest sardine run occurs annually during October and November in the nutrient-rich waters when bait balls of sardines form, attracting striped marlin, as well as California sea lions, dolphin, pelicans, wahoo, plus other types of fish and birds.
Gray whales are typically in the area beginning in late fall after their 6,000-mile (9,656 km) migration from Alaska. After giving birth in the warm Mexican waters, gray whales hang around to raise their calves. Though you can't get in the water with them, there are lots of whale watching tours you can join. You might also see blue whales, humpbacks, fin whales, minke whales, sperm whales, and Bryde's whales in this area, too.
Banco Chinchorro
Banco Chinchorro Atoll, lying off the southeast coast of Mexico's Yucatan Peninsula, offers some of the best diving in the Gulf of Mexico. Air and water temperatures are tropically warm all year long, though slightly cooler from December to April. Winter is the best time to dive, while May to November is hurricane season and usually hotter and more humid.
Banco Chinchorro represents the largest atoll reef (300 square miles or 800 sq. km) and one of the healthiest marine ecosystems in North America, and attracts all kinds of interesting sea life, including sharks, whale sharks, manta rays, whales, seals, turtles, dolphins, and brightly colored tropical fish.
Socorro Island
Socorro Island in the Revillagigedo Islands, about 335 miles (540 km) southwest of Baja California, Mexico, is one of the best places in the world to see pelagics. The other islands in the group, also visited by liveaboards, include Clarion, San Benedicto, and Roca Partida.
Socorro is rightly known as the "Galapagos of Mexico" for its diversity and large aggregations of large animals. Time your visit seasonally, depending on what you wat to see: January is best for schools of sharks, while February is all about the whales. Meanwhile, you can see tuna, humpbacks, manta rays and several species of sea turtles throughout the year.
Author Gil Zeimer took a scuba resort course on Grand Cayman in 1981. He's been hooked ever since and has explored the underwater world from Australia to Micronesia to Aruba, almost exclusively in warm waters. As a travel writer, journalist, and advertising writer, Gil is passionate about helping diving industry clients promote their sites, resorts, and causes. He lives in Tiburon, California, which is Spanish for "shark." Find out more about him here or follow him on Facebook.